Interview with Master Murad Ahmed 6th Dan
This interview is with Master Murad Ahmed – and we are honored that he has taken time out of his schedule to grant us this interview.
His taekwondo life began, as is does for many people. At age 9 he started out with some of his friends, who were all inspired by – among other things – Bruce Lee movies.
"In 1985 – age 9 – I started out, inspired by a visit to Bolbro Taekwondo Klub – which – at that time had their training facilities in the gym across from Odense Hospital. We felt inspired by all the Bruce Lee movie we had watched.
We moved to Morud – and luckily there was a taekwondo club – which was rather small – but I trained there for almost 7 years – until 1995. Simultaneously, I started training in Munkebo Taekwondo Klub and trained with Karina Juhl Rasmussen and others. Today, Karina and I are best friends. In 1995 I moved to Vollsmose Taekwondo Klub and found a lot of new training buddies and friends. Some of them are still in my taekwondo life – for example, Cengiz Caliskan, who has reopened Vollsmose Taekwondo Klub – which we are cooperating closely with. In 1996 I was a part of establishing Team Odense Taekwondo Klub, where I acted as president the first couple of years, and in 2010 I was back in that position."
No breaks needed: Only a little less training when circumstances required so.
"Actually, I never really stopped training Taekwondo since back then. However, sometimes I have trained less because of too little time, lack of inspiration or injuries, but I never really stopped for good'.
For Murad Taekwondo has offered more depth than other martial arts, which makes it a unique opportunity to explore.
'Taekwondo is a martial art with elements from a broad variety of other martial arts.
I have checked out other martial arts, but have always found that the same elements can be found in Taekwondo. If you allow yourself to explore Taekwondo, you find challenges within sparring, technical, self-defense, weapons, kupso and so much more"
In his early years, Murad caught interest in full contact sparring. Early on, he developed his skills, which later on brought him many gold medals in both national and Nordic championships and from tournaments in Denmark and abroad. He has also played an important role in establishing a new club, where he is still an active instructor.
"The interest in sparring competitions caught me at a young age – and I ended up fighting at elite level. I have – on several occasions – represented Denmark in international competitions. At several occasions I trained with the national team. I won a significant number of competitions in Denmark during the years and obtained satisfying results at the national championships, Wonderful Copenhagen.
Among the medals are also gold medals from the Nordic Championships and 2 x Scandinavian Open. I have optained the degree of 6th. Dan black belt – which I suppose is quite an achievement – over the years.
Other than that, I am, as mentioned, one of the founders of Team Odense – and together with Karina Juhl Rasmussen we are the only remaining founding members from way back then. In this significant and well-organized club on Funen, we have – over the years – been able to obtain satisfying competition results. We have many championship titles – and quite a few of our former members have taken their taekwondo life with them to other places in Denmark. Often, our members speak positively about us, when they go somewhere else – and I am proud of that.
Professionally, I have a degree in journalism. Therefore, I have worked as a voluntary press officer for the Danish Taekwondo Federation for a number of years and have achieved satisfying press related results – and cherished and valuable experience in other countries –as far away as in China a lot of other countries.
When Denmark hosted the Taekwondo Sparring World Championship in 2009 I was part of the organizing group.
All in all, I am proud to have experienced a lot with Taekwondo."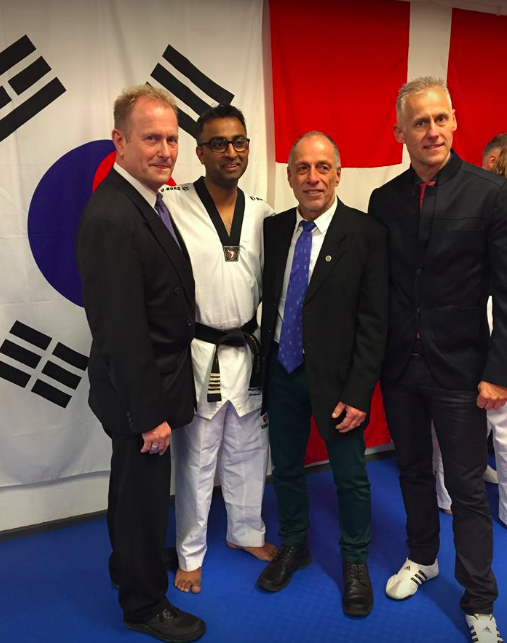 Although Murad has achieved a lot already – and is very satisfied – there are still goals to reach in his Taekwondo journey.
"Time is a factor when you have your own company and a family with small kids. Therefore, I do not get to train as much right now – as I probably should. I am striving to maintain the status quo. The club is running extremely good, in particular since Lars Egsvang has become the head coach – and our members are happy. Personally, I hope I can train sufficiently in order to be able to test for the 7th dan degree in 2021. Furthermore, I work with other instructors in order to work out a talent development project within sparring for the clubs on Funen. I hope this will be improved further, so we can develop more talents, which can get good results for Funen"
Never hold back, just keep going on! Taekwondo is for everyone.
"Just get going. Taekwondo as a sport develops as you develop in the process. The better you get the more the sport challenges you – if you want it to. There are so many development opportunities within Taekwondo – and even more importantly: Everyone can participate, disregarding level, age and such. It's a sport you can take with you throughout your entire life. Only a few other sports do that."
Murad Ahmed
6. Dan – Instructor and president in Team Odense
Has done Taekwondo since age 9 when he in 1985 started out in Bolbro Taekwondo Klub under the supervision of Jimmy Storm
In his professional life he is a journalist
Independent contractor heading the video and tv-production company 'Make Sense Film' – with clients such as World Taekwondo Federation.
Web.page: www.makesense.dk
Married to Tina Højsted Ahmed, Father of Hannah (born 2008) og Zacharia (born 2011). Both kids do Taekwondo.